Hi. I've got a problem I'm unable to solve.
In fact, if I start servers in /var/games/minecraft/servers via console commands, I can see every character shown right.
But when characters are shown in Web UI, there are small little squares after every color change, like this: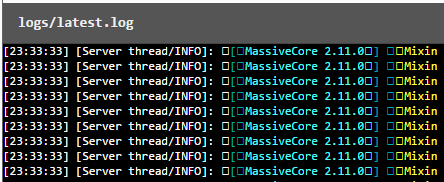 While they are not present via a normal SSH shell:


I'm running MineOS commit c2db54e on a Debian 8 x64 machine. I have tried reinstalling every font package, re-building fonts cache, generating new locales (i've installed UTF-8 and all en_GB ISOs), installing more fonts, but had no luck.
Can you please help me? This is not a big problem, but it's pretty annoying, expecially when setting up servers, having to access console constantly. Thank you!