Good day all, been a while since I been here, between covid crap, working projects not much spare time. I hope everyone is well! Quick question: I am looking to spin up a modded 1.18.1 server as I have gotten all the achievements in vanilla except tame all cat variants but who needs that lol so last night I ran webui update using the convenience script:
cd /usr/games/minecraft
/bin/bash update_webui.sh
I notice forge is back (yay but didnt bother me that it was gone lol), but now I see paper is no longer listed: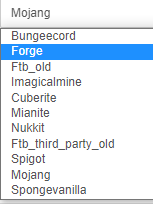 Is this a bug, intentional or should I update another way?
I could always download the latest version of paper and up it to my mineos server but just curious. Thanks and have a good day, be safe and well everyone!