I am running MineOS node on Ubuntu 14.04, and while it seems that I am running the latest version (logs now scroll in a sub-window instead of scrolling the entire page), I am unable to see the version number in the Minecraft menu.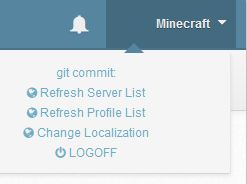 I was running MineOS python, completely uninstalled it using the installation instructions in reverse order to (hopefully) remove all traces of the old installation, then installed the node version following the provided instructions. Everything seems to be running ok except that I have no version information in the Minecraft menu, and my Vanilla profiles are missing from the profiles section.
Any ideas on what I can do about the missing version info? And how do I get my Vanilla profiles back as an install option? Are they gone for good in favor of the Mojang officials? Are they the actual Vanilla without the Vanilla name?
Thanks for your help!